Complete Countertop Installation Service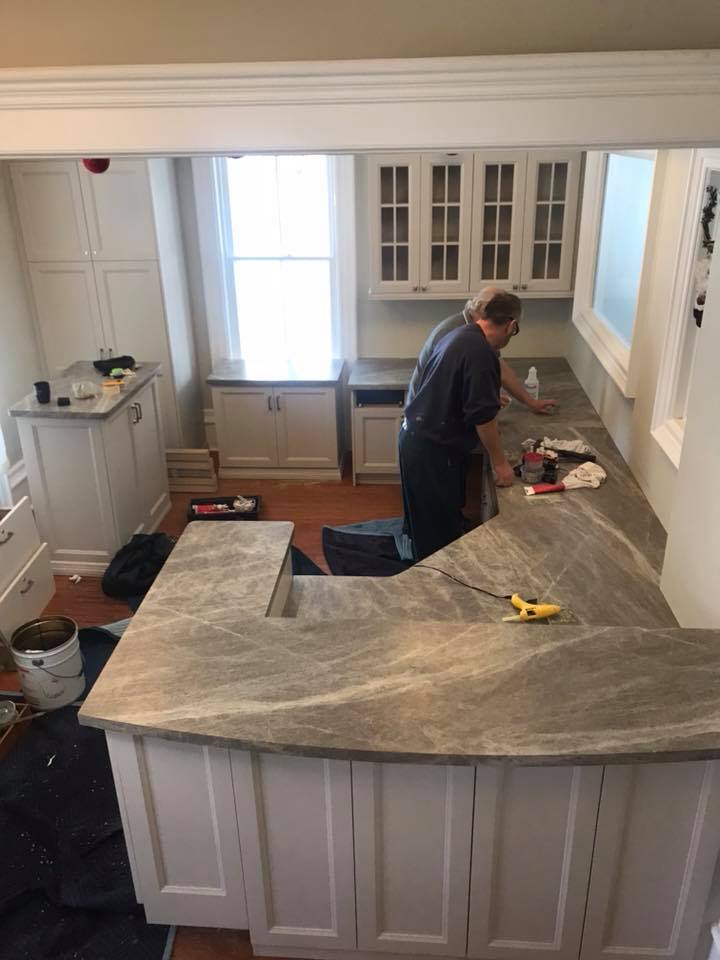 It's not just business, it's personal. Our team of installers are specially chosen for their talents to assist our customers from start to finish.
When you are ready to start, we are ready to work. Your installation includes:
Measuring and Estimating
Bring in, email or phone your own measurements to receive an initial estimate for your chosen colour and edge profile. We will then schedule a full measuring and jobsite templating at your location to ensure accuracy and to check for obstructions or other elements that could affect the final size and cut of your countertop.
Manufacturing
We fabricate, cut, and edge your countertop in our own facility, so you don't need to wait weeks for your new countertop. We always keep in stock some of the most popular colours and edge profiles in standard kitchen, vanity and bar sizes so you may even be able to receive your countertop faster. Learn more about this on our Quick Ship page.
Located in Lindsay, Ontario, our 10,000 ft² production shop is designed with strict quality control and efficiency in mind, resulting in a finished product that is not only superior, but also economical.
Meeting your countertop needs is our first priority. Our commitment to complete customer satisfaction starts at the top with our owner, Rick Buchanan (President). Every member of the Cutting Edge team follows his example to go the extra mile and exceed customer expectations.
Delivery and Installation
A typical laminate installation includes:
Removal of the existing countertop
Fastening the new counter to the cabinet base
Cutting a hole for the sink
Caulking the counter backsplash area
Cleaning up the work area
Remember: installations differ according to the countertop style/edge chosen, the room and other on-site factors. Contact us if you have questions about installing laminate countertops.
Guarantee and Advice
Sometimes you have questions about use, care, and cleaning of your new countertop. Not only do we guarantee our laminate countertops for 2 years, but we're here to answer your questions. You can read our maintenance tips online, or contact us by phone or email.